We are a team of spirited and talented individuals who collectively bring over 50 years of experience in advertising, marketing, and media buying. We distinguish between good and great, and it shows in everything we do. We have an unwavering focus on driving real results for our clients. Through powerful communication strategies, we bridge the gap between the business need of driving sales and the consumers' desire to connect with brands utilizing powerful communication strategies.
We possess the will and determination to out-deliver other agencies.
We are not everybody else.
Strategy
Market Research
Positioning
Consumer Insights
Competitive Analysis
Target Audience Profile
Messaging Framework
Media
TV
Radio
Print
Online
Outdoor
Direct Mail
Digital
Websites
Social Advertising
Search Engine Marketing
Online Video Advertising
Targeted Display
Email Campaigns
Consulting
Audits
Vendor KPI Benchmarking—Industry Specific
ROI Analysis
Customer Retention
Secret Shopping
Analytics Analysis & Optimization
Creative
Graphic Design
Digital Assets
Brand Collateral
Logo Conceptualization
Print Design
Brand Consistency
Experiential
Events
Promotions
Grass Roots
Brand Activation
Data Collection
Alternative Sources
Process
For us, it starts with research—and not just the market kind. We take a deep dive into the ins and outs of your business, what makes it unique, who your people are, and how your customers view you. We become a part of your team. Once we've arrived at the heart of your business, then—and only then—will we begin the communications planning and strategy. We want to ensure that from the moment your target customer engages with your brand, they connect. It's this connection that drives everything we do on your behalf. Once we've given people the reason they want to do business with you, we make sure they keep coming back.
Clients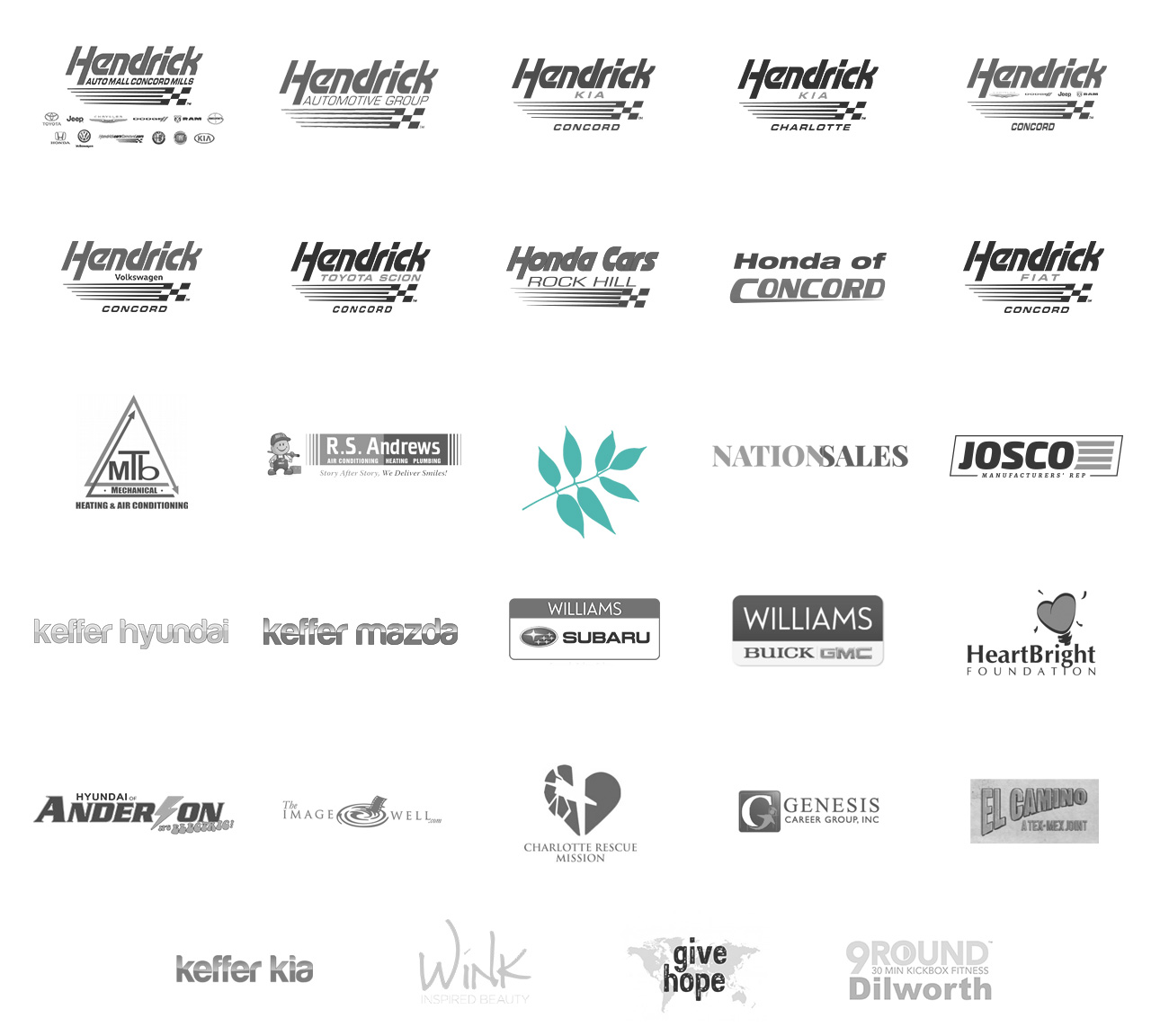 What Others Are Saying
1 – David Pierce
Advertising expenses represent some of the most important and costly decisions we make to grow our business. Unique perspectives, increased efficiencies and fresh ideas coupled with a consistent approach gives us an advantage over our competitors. Anna has proven herself and her team to be invaluable in delivering what we need with top-notch service, creativity and dedication. Ashland directly contributes to the success of our stores.
David Pierce
General Manager | Hendrick CDJR of Concord
2 – Susan Miller
In twenty-three years of doing this, I have never had an agency so passionate about the success of a client, and it's incredibly refreshing.
Susan Miller
General Manager | WCNC
3 – Brian McDaniel
Ashland's relentless negotiation skills leave me confident that we have secured the absolute best rates, placement, and schedule to achieve our advertising goals. The Ashland team is part of our team, and without them, we wouldn't be where we are today.
Brian McDaniel
General Manager | Honda of Concord
4 – Joel Suggs
I have been consistently impressed with the knowledge and expertise Ashland Advertising demonstrates with regard to both sides of the business—advertising and automotive. They are professional, responsive, dedicated, and any business is truly lucky to have them on their team. The enthusiasm and passion they bring for the success of their clients is remarkable.
Joel Suggs
General Manager | Honda Cars of Rock Hill
5 – Billy Grooms
With over 30 years of advertising experience, I have come across many agencies and clients. Ashland Advertising is a unique, refreshing team that brings an inspirational outlook to placing media. They negotiate and drive results for their clients. Ashland Advertising makes things happen quickly and has a raw understanding of branding, strategy, and project accountability.
The bottom line is the owners and teams at Ashland Advertising are wonderful human beings who really care.
Billy Grooms
Vice President | Beasley Media Group
6 – Donnie Moore
Ashland Advertising has played an integral part in
our success this year by bringing high energy,
accountability, and expertise to the table. They
focus on the intangibles that most agencies leave
untouched and this brings higher focus, attention,
and efficiency to our strategies. Their approach
is always with their client in mind and they
will fight for every dollar or value-based incentive
available, and then some. It is nice knowing that I can
rely on Ashland Advertising to always answer my
call and follow through with their promises.
Donnie Moore
General Manager | Hendrick Toyota of Concord
7 – Gaston Bates
We know more about these accounts than 99.9% of clients and that insight is hugely valuable. It creates significantly more effective media placements and puts you light-years ahead of what everyone else is doing.
Gaston Bates
General Manager | WCCB TV
/
THE EXTRA MILE IS A LONELY PLACE.
BUT WE WILL ALWAYS BE THERE.